"Impact to Run Consulting" to Guide Artists to be More Politically Correct
For more information, contact Brian Franklin at info@impactpolitics.com.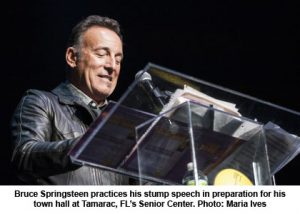 (Fort Lauderdale, FL) – Legendary artist Bruce Springsteen has teamed up with political consulting firm, Impact Politics, to start Impact to Run Consulting – a firm that will assist artists in rewriting older songs to be more politically correct or advantageous in today's discerning market.
"Bruce Springsteen is a childhood hero of mine and I'm thrilled to be working with him. Bruce is one of the first to recognize that what was appropriate in 1978 or 1984 isn't necessarily right for today – and he's once again pushing his own boundaries," said Brian Franklin.
"Most people in their forties or older remember how misinterpreted 'Born in the U.S.A.' was – and how even Ronald Reagan failed to understand Bruce's lyrics. Many of Bruce's songs have lacked political finesse in this matter. Songs like 'I'm on Fire' have for decades offended those with urinary tract infections and chlamydia. 'Wild Billy's Circus Song' fails to use the proper, more politically sensitive nomenclature of 'little people'. "Blinded by the Light", while fine in its day, is now obviously insensitive to those with corneal and retinal damage. 'Born to Run' fails to account for the millions around the globe who have cartilage damage or injury induced arthritis. 'Land of Hopes and Dreams' is a nationalist, pro-America song that Bruce has been playing globally, potentially inciting anti-American reactions to his boastful "This Train" refrain," stated Franklin.
Springsteen himself concurs: "When you're a younger artist like Adele, you just don't give a shit as to what people hear in your songs. Set Fire to the Rain? You can't even do that – so it's political connection is minimal. As I get deeper into my 60s… (laughs), I'm realizing that my political power could be amplified with some minor changes to my songs and their lyrics."
Impact to Run Consulting will work with artists to suggest the right changes to appeal to a broader base of voters. For example, one of it's first non-Springsteen efforts involves Beyoncé, altering lyrics of the song "Single Ladies" to minimize it's impact on men with depression. "We suggested that 'If you liked it then you should have put a ring on it' was a bit harsh and potentially a reminder of past mistakes, leading to depression. Impact to Run suggested a change to "If you liked it then you'll put a ring on the next one similar to this" – which accomplishes the same lyrical goal without rubbing the listener's nose in it. Beyonce agreed.
Springsteen, about to embark on the European leg of his new tour will be testing out the new lyrics there before returning to the states.
"Some people may initially bristle at the change from "Born to Run" to "Born to Move" – but they'll get used to it, and polling suggests we'll gain more fans than we'll lose," said Springsteen.
About Bruce Springsteen:
Bruce Springsteen has sold over 120 million albums world wide, is one of the highest-grossing artists of all time, and a member of the Rock and Roll Hall of Fame. he has earned numerous awards for his work, including 20 Grammy Awards, two Golden Globes and an Academy Award as well as being inducted into the Rock and Roll Hall of Fame in 1999. In 2004, Rolling Stone ranked him as the 23rd Greatest Artist of all time, the 96th Greatest Guitarist of all time on their latest list and the 36th Greatest Singer of all time in 2008.
About Impact Politics:
Impact Politics is an award-winning political consulting firm that specializes in writing and new media for national, state, and congressional campaigns and advocacy organizations. Most recently, the firm guided the communications strategy for Congressman Patrick Murphy's defeat of Tea Party Leader Allen West. The firm has won numerous political advertising awards, from Best Internet Campaign and Best Online Targeting to Best Use of Humor in Online Ads. The firm is based in Fort Lauderdale, FL.